Our ambassador Carrie Albrecht, a sustainability-obsessed mom of a teenage daughter, understands the importance of fashion to both mental health and the environment. As a true expression of creativity (of which Carrie is brimming with!), fashion plays a huge role in her life, but this blogger is conscious of what she's leaving behind.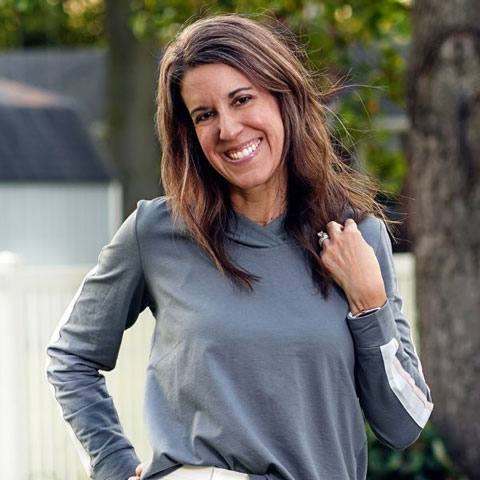 Carrie's passion for fashion was ignited as a mother, understanding the value that that piece of self-care brings to her hectic schedule. Fashion was also a highlight during the pandemic–even if there was no place to show it off, she loved how bright and fun her Aventura clothes were, and how that lightened her pandemic days.
However, Carrie realized how fast fashion and her crafting hobbies can harm the environment and create major waste. To combat this, she challenges herself to create as many outfits out of a single garment as possible and is conscious to reuse or repurpose materials. Her love for creative expression and duty to the planet endear us to her as does her ethos:
"I believe sustainability is important and I try to do my part by reducing what we really need in our household and I try to donate or give others what we no longer need."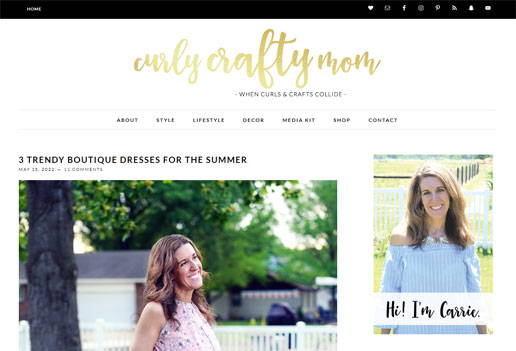 Q: What is the story behind your blog name: Curly Crafty Mom?
I started my blog when my daughter was born back in 2008. The blog has evolved with me and, at first, was a mom blog. I later transitioned it to more of a lifestyle blog that focuses on a broad variety of topics. I have naturally curly hair, I enjoy crafts/DIY and I'm a mom, hence the name! Also, I enjoy sharing recipes and fashion on the blog.
Q: What are some of your favorite things to craft?
One of my all-time favorite crafts is making a wreath! I even had a 12 Months of Wreaths collaboration I did with several other bloggers a couple of years ago. Lately, I've been into doing crafts to go along with the farmhouse decor in my home.
Aventura Note: We love this spring wreath from Carrie's collection–it's simple and takes under an hour to create but looks so cute and perfect for spring/summer decorations.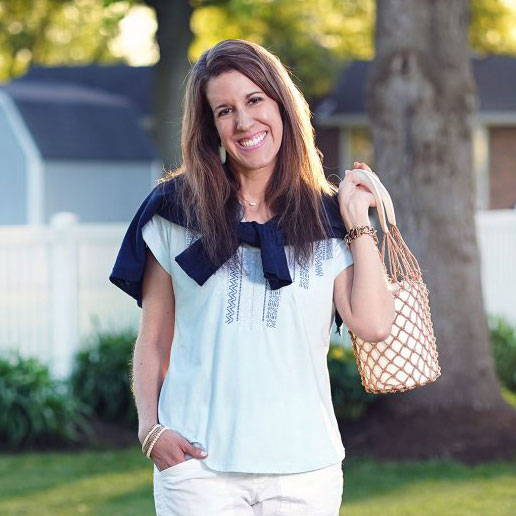 Q: Which core value of Aventura speaks to you the most: sustainable fibers, fair trade production, women's empowerment, or family values?
I would say ALL of these! I feel all of these values are SO important, especially in these new and challenging times that we have all found ourselves in. Women's empowerment is important to me as a mother of a teen daughter. I want to nurture and care for this planet we live on so that it is healthier for the next generation. So, sustainable fibers are a great core value I see in Aventura.
Q: Why is fashion so important to you?
As a mom, it is so easy to put my hair up in a wet bun after an early morning workout (before the rest of my family awakes!) and hit the road with all my errands and tasks for the day. It is hard to find time for myself, but wearing something that makes me feel good is what sparks a little joy in my day and life! When I love what I'm wearing, I feel better about my day.
Q: How has being a mom influenced your fashion?
I have a teen daughter, so it is fun to hear her input on what is stylish for her generation. My daughter is why I'm rocking a middle part instead of a side part now and she's also gotten me addicted to comfortable yet stylish hoodies! I would say that she won't admit it, but she is intrigued by the styles that I share on my blog. It is fun that we can both learn from each other and mix and match our styles!
Q: Do you have any style advice for someone just getting into fashion?
I would say that you could look into one of those capsule challenges, where you select so many pieces from your closet and try to create several outfits for 7-10 days with them. Those challenges are always fun and then you get to learn how to really expand your closet. I think it is important to have staples in your closet, the pieces that never go out of style and that you reach for the most. Then, you can add a few trendy pieces every season for fun!
Q: Do you have an all-time favorite Aventura Clothing piece?
Yes! The Sonata Sweater is one of my favorite pieces! It is such a great layering piece and I like the soft fabric, the subtle chevron pattern on it and how breathable this piece is when you wear it for a long walk/hike. I brought this piece along on an anniversary trip and whenever I wear it, it reminds me of this special trip away with my husband.