The Fit RV - Stefany & James

Meet Stefany and James, an adventurous, bike-race-loving, RV-living couple and long-time ambassadors for Aventura Clothing. These two travel across the world, from the Lost Coast of California to Mallorca, living the dream and reporting on it in a comprehensive blog that centers on RV life, wellness, and adventure. Formerly a school teacher, Stefany has transformed her passion for teaching into a career in wellness coaching. The multitalented James splits his time between bike races, renovating RVs, woodworking, and playing drums and bass guitar.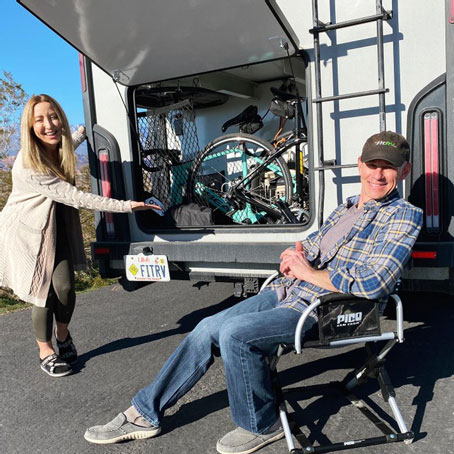 We had the good fortune to meet this duo at Outdoor Retailer (an outdoor expo and conference) in 2016. Stefany and James were initially drawn to the brand for the outdoorsy style that "jives perfectly with our RV lifestyle," says Stefany. When they learned about our passion for sustainability and fair trade, and that we're a family-run company, they were hooked.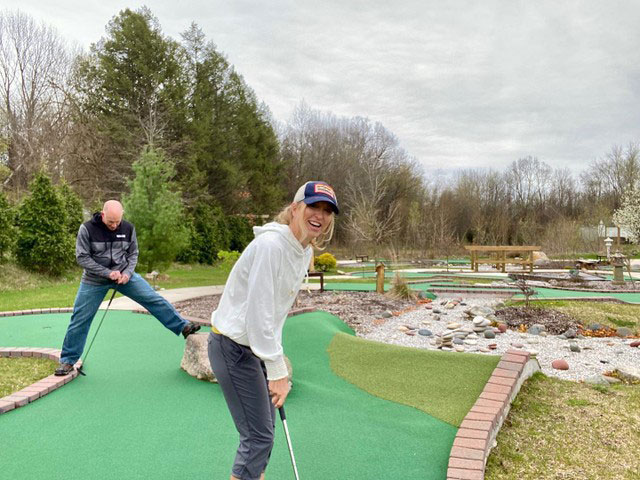 First, we are curious about your name, The Fit RV. Why is fitness important to you?
Fitness has always been important to me. My college degree is in Exercise and Sport Science, and my entire career since then has been in that realm. My interest isn't in traditional bodybuilding or exercising just for sculpting muscles. Instead, I've always been fascinated with aging well, and what it takes to live a longer, healthier life. So, that's where I focus my work on The Fit RV, inspiring other RVers to choose habits that will keep them healthy and active, so they can keep on the road a long, long time.
Now to the second part: The RV! When did you decide to get an RV and what inspired this lifestyle change?
We got our first RV over a decade ago. We weren't planning on becoming "RVers" really. At the time, we were spending our weekends doing bicycling endurance events. We bought our first RV because we were tired of waiting in long porta-john lines at those events, and we decided we wanted our own bathroom! It wasn't until after we had our rolling bathroom that we realized the RV opened up all sorts of travel possibilities for us.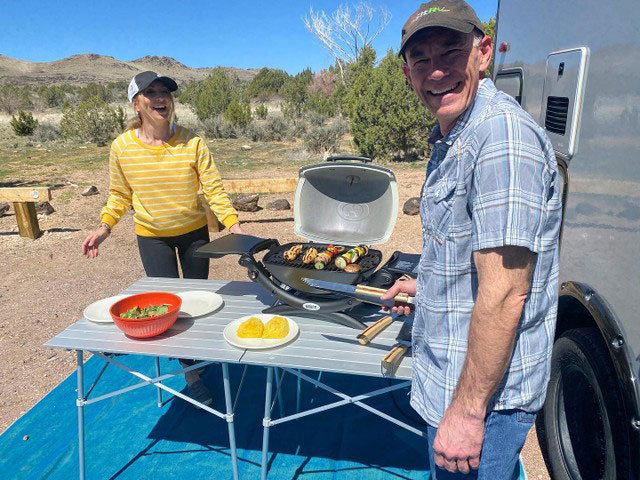 How much time do you spend traveling vs at home?
Before COVID, we were on the road more than we were home; about 60:40. But since then, that's flipped to about 40:60.
Where are your top favorite places you've traveled to?
Banff National Park in Alberta is incredible. I've also loved seeing the ruins and camping at Mesa Verde National Park in Colorado.
Do you have any grand adventures planned for 2022?
This spring we're excited about a bicycling event happening in San Antonio, Texas. The Tour de France organizers are hosting a ride event for the first time here in the US, and we plan to take the RV there and participate. I'm also excited because we'll only be a few hours from a goat yoga studio in Tomball Texas I've been wanting to visit! I'm a huge goat lover, and I can't wait to do yoga with goats!
You've been an ambassador for Aventura for 6 years now. Why is this brand still important to you? Is there a core value (sustainable fibers, fair trade production, women's empowerment, or family values) that speaks to you the most?
All of [the core values]! Aventura focuses on so many different ethical values, it makes us incredibly proud knowing the clothes we're wearing are made by a company doing their part to make the world a little better.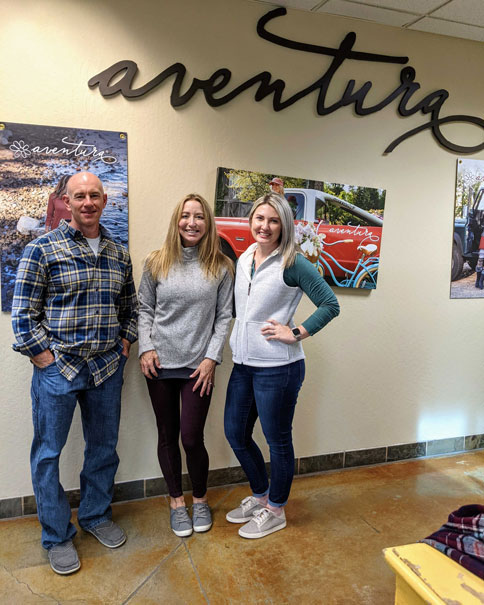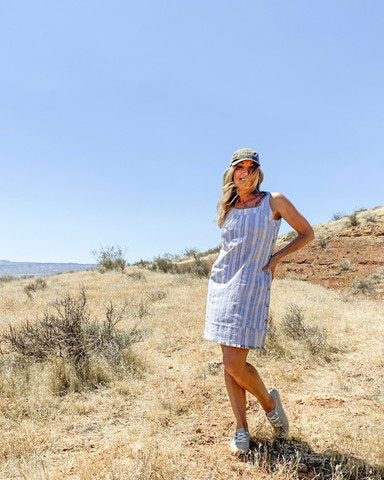 What stands out to you when you wear an Aventura Clothing piece?
Comfort. Each time I pull out any piece of Aventura I know it's going to feel good on my skin.
Do you have an all-time favorite Aventura Clothing piece?
Right now I'm obsessed with the Samsara leggings. As a personal trainer, I've got a LOT of leggings, from all the major brands. But I just picked up a pair of Samsara leggings this past fall, and they are my go-to leggings. If they're clean, they're the first ones I'm going to put on. They are so comfortable! I want to throw out all my other leggings and only wear Samsara's… the material feels heavenly.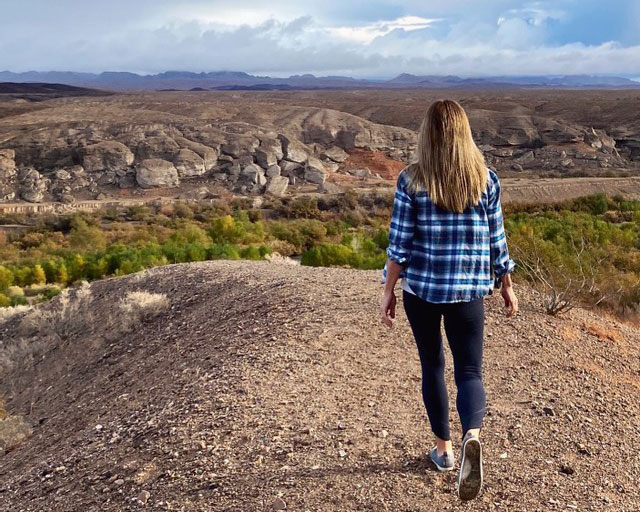 Catch glimpses of this couple's adventures at @aventuraclothing, @thefitrv, or The Fit RV Youtube Channel, which has 91,000 subscribers and countless videos like "Easy RV Mods in our New Winnebago EKKO" and "Resistance Band Workouts for Beginners and Seniors."