Blond Squad: Leilani Top Style
When our long-time ambassador Laura Bambrick came to us to ask if her Blond Squad could style the Leilani Tank Top for an upcoming collaboration, we said yes!
The Blond Squad consists of five renowned, Chicago-based fashion bloggers who get together every season to chat with their combined audiences about outfit inspiration and style. Besides our Laura, this crew includes Caroline from The Petite Fashionista, Katherine of Flutist, Fashion, and Faith, Jill from Doused in Pink, and Andrea from Living on Cloud Nine.
We've rounded up all five blogger's takes on the Leilani Tank Top and how they styled it for themselves. Spoiler - every single one of them chose to pair their tank with white pants! Great minds sure do think alike. If you're looking for a pair of bottoms to pair with the Leilani Top, we suggest the Bristol Short (which comes in white!) for a casual, summery finish to this look.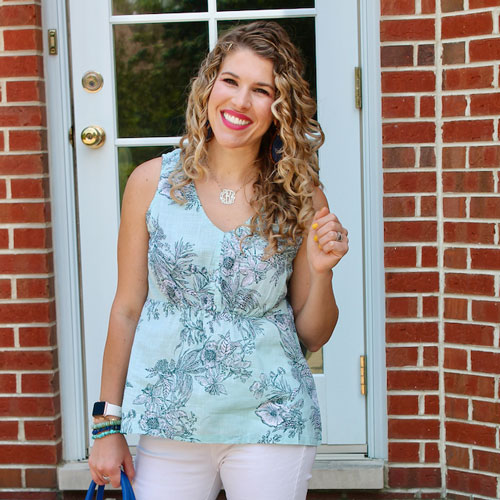 "The darling Leilani blouse from Aventura. If the print looks vaguely familiar, it's because I have the dress version of this top in blue and shared it a couple of weeks ago. So many of you loved the brilliant shade of blue. I did, too! I switched it up this time with their mint green version of the top. The top does come in that same shade of blue though if you are interested! I kept it simple with white crop flares, but still accessorized with some blue. I've also worn this top with shorts. It goes well with darker denim shorts or white shorts. It would be really cute with contrasting pink bottoms, too!"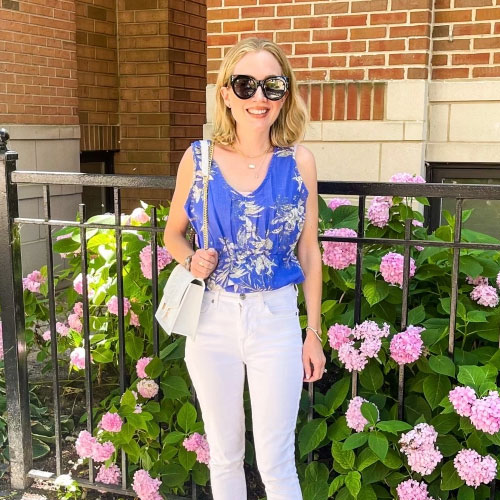 "I love wearing a bright-colored top with white jeans, so for my outfit, I decided to wear my white jeans and my new white handbag with my Leilani Tank Top. I love the way that the pretty blue color pops with the jeans and handbag. I also tucked my top in because I thought that it looked better on me tucked in. But if you were going to wear a fitted bottom such as a pencil skirt, or fitted pants, it would look cute untucked. Since I wanted to create a little bit of a dressier look, I decided to wear my mule slide sandals that I have had for a few years."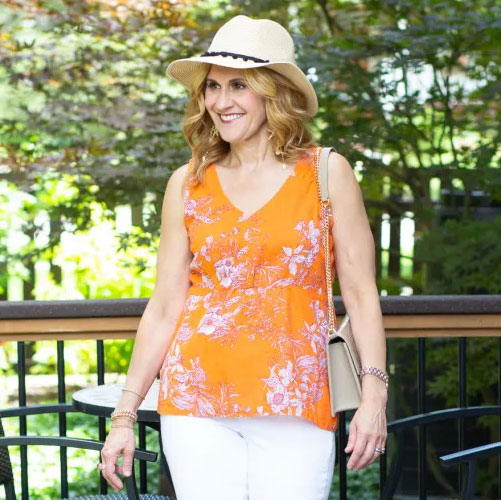 Flutist, Fashion, and Faith
"Bold colors seem to be my thing this summer. (This dress and top are good examples of that.) So when I saw the top that the Blond Squad would all be styling, I had to go with this gorgeous nectarine shade. The tank is perfect for summer because it's made of organic cotton and it just grazes the body when you slip it on. The v-neck and bit of ruching are flattering details. I really wanted to emphasize the orange color with this look which is why I chose neutral accessories. The white jean is what really makes this tank pop. You can never go wrong with white jeans in summer."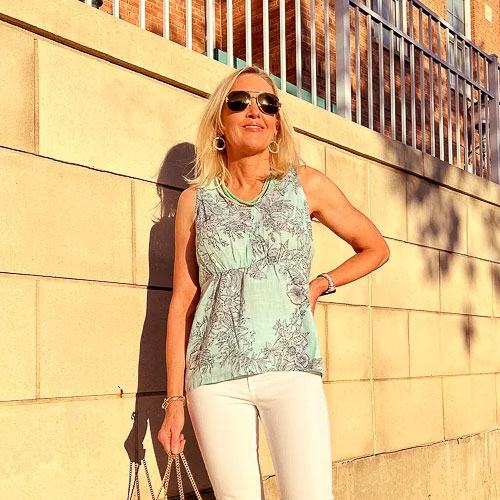 "I'm always looking for unique tops that make a statement. The Leilani Tank Top was our pick for its tropical print, offered in three different color options. We love that it is made with 100% organic cotton to keep you cool. The green and blue floral print remind me of the ocean. This top is lightweight, and the wide straps make it bra-friendly. Bonus that it can go right in the washer and dryer. I typically style my outfits around shoes and immediately knew my pineapple espadrille mules would be perfect. We were going out for dinner, so I opted for white denim and thought the green contrasted well against white. After playing around with different jewelry pieces, I decided on my statement necklace made with green sea glass discs and stone beaded earrings. Sleeveless tops are versatile, you can wear them almost every season. Try it with denim cut-off shorts and sneakers. It would also look cute with Bermuda shorts and wedges. Add a cardigan or kimono in the spring and pair with wide-leg denim. In the fall, layer a fitted tee underneath or top with a denim jacket."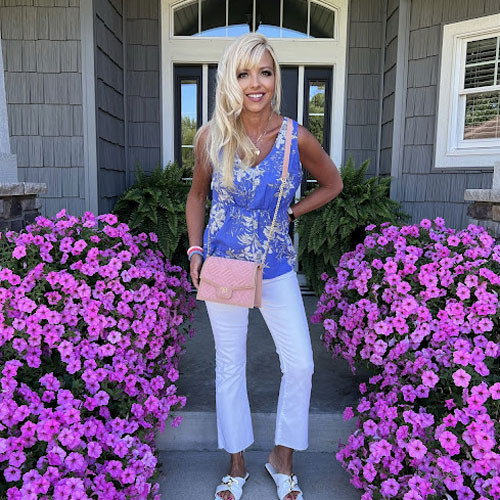 "This top is cute as a button. Aventura clothing is so high quality and guess what? It's ON SALE! This top comes in three beautiful colors and since everyone is telling me I look so good in blue, which I never even thought, I was so happy to style the Amparo Blue. Simple kick crop white denim jeans looked really good with this top and my new white leather sandals from Marmi Shoes. Super cute! I'll throw on booties closer to fall and maybe add a sweet light-washed denim jacket or cardigan!"
If you have a fun style idea for the Leilani Tank Top, we'd love to see it! Share on Instagram and tag @aventuraclothing to be featured on our feed.