Could This Be the Perfect Summer Collection In Women's Fashion?

Is there a perfect style for summer? We think so. In fact, we think our Seychelle Series is just that! Here in this guide, we not only introduce you to the collection but outline some of the frequent style questions we receive from women just like you.
Keep reading to discover why this collection will improve your summers, plus style tips to ensure you look and feel your most confident.
(RE)Introducing the Seychelle Collection

The stunning Seychelles, an island nation in the Indian Ocean, is this four-piece collection's inspiration. The year-round tropical summer days, unbelievably blue waters, lush nature, and charming towns gave us the direction to make a dress, long-sleeve, short-sleeve, and tank top with breezy, yet practical details.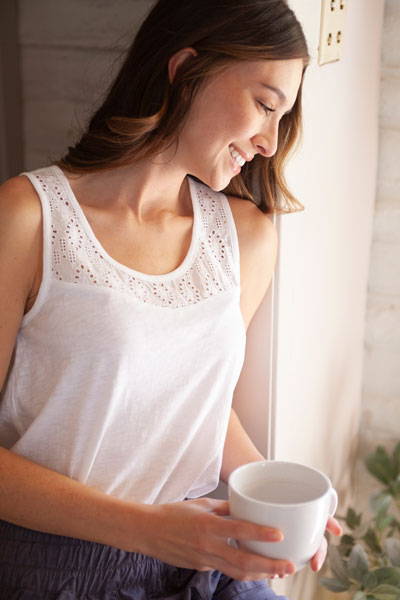 "It's a nice blend of functional with having flair, being girly and feminine, It ticks all the boxes of who we are as a company."
-Kathleen, Design Director and Co-owner
And it certainly does – boasting sustainability, ethical production, comfort, and a concession of five-star reviews. This organic cotton collection is becoming a signature style for us and we were excited to release a short sleeve style this season to add to beloved series.
"I feel really pretty in it," Kathleen says of the new short sleeve. "I feel like it can go anywhere and do anything for you. It's a really fun collection."

Why do we love organic cotton for summer fashion?







The number one reason why we love organic cotton is that it is incredibly sustainable! According to Textile Exchange, growing 1,000kg of non-organic cotton produces the same waste as a standard vehicle driving 7,421 miles. Plus, conventional cotton has the potential to contaminate the land and water surrounding the farm it is grown on – potentially harming local communities.
The benefit to our environment and communities aside, organic cotton is a fabulous choice for summer products because of its natural ability to help regulate body temperature and breathe. Your skin will thank you...especially since cotton is so gentle to the touch.
What are the best clothes to wear in summer?

The popular opinion around best summer wear is based on cotton clothing in light colors. Light colors help to reflect light rather than absorb it as a darker color would.
But it is not just the fiber or the color of a piece that matters. The type of fabric matters as well! Each of the four Seychelle pieces is knit into an incredible slub jersey. We love this fabrication because it is more substantial than a standard jersey (even the white Seychelle pieces aren't see-through!) while remaining lightweight. Slub jersey styles are easy to care for and do not require ironing. Did we mention how much we love this collection for travel?!
One final thought on what to check for in summer fashion is the fit. Who wants something tight and constricting during the warmer months or while on vacation? Relaxed-fitting clothing rule warmer weather with elegant effortlessness. Be sure to look for functional design details like darts or princess seams to create a great silhouette!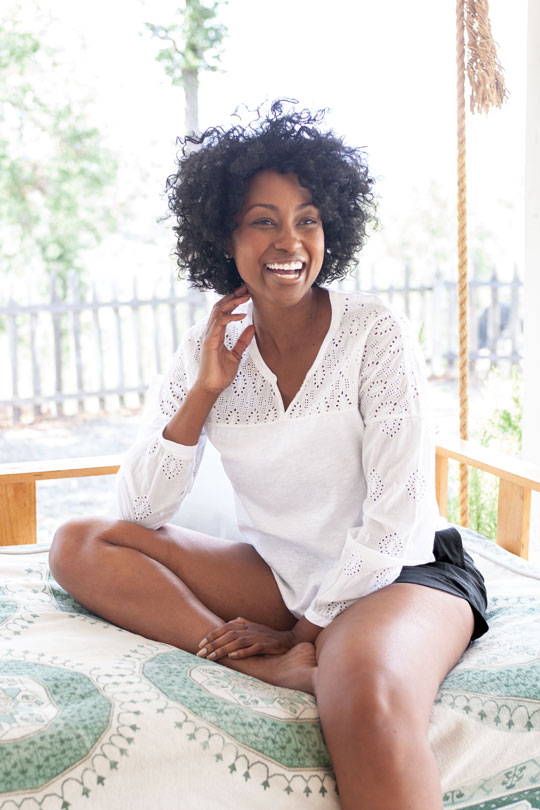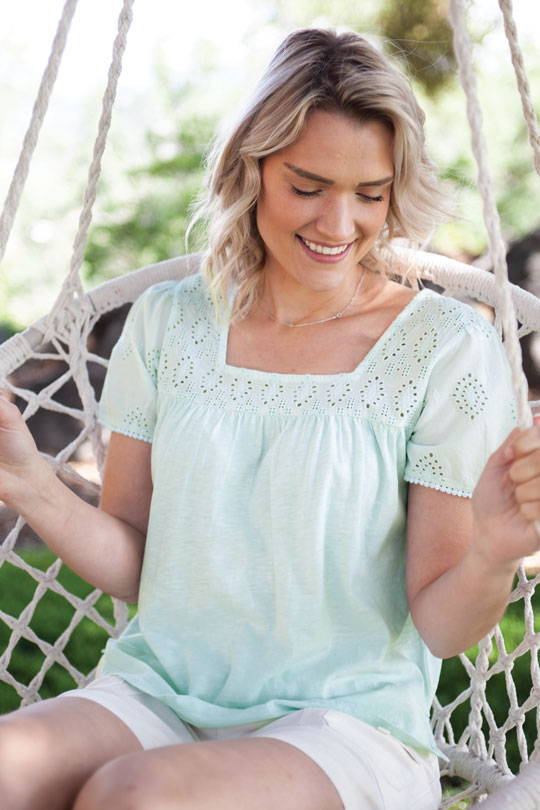 Accessorizing cute summer outfits for women

Summer is the time to bring out bright colors and bold with accessorizing! That is another reason why we love the Seychelle Collection; each piece acts as an open canvas and invites creativity to accessorize.
Warmer months are the time to play with statement necklaces and stacked bracelets. Of course, simple jewelry like a delicate hoop earring is brilliant too. Sunglasses might be the most overlooked accessory but are totally necessary for a sunny day. Play with a fun color or shape you ordinarily wouldn't.
Our favorite summer accessory, however, has to be the sandal. Flat, wedged, casual, glamorous, full of color, or nude – whatever the vibe, there is a pair of sandals perfect for you!
Finally, top your look off with a great bag. For travel, a chic, leather backpack is a smart choice to shop, though for around town, a more simple bag will do.
I Am Over 50, what summer style is right for me?

Here at Aventura, we want to empower women of all ages! After all, age is just a number. And we are here to tell you that anything that makes you happy to wear is the right style for you.
One of our ambassadors, @overfiftyfashion styles many of our pieces in ways that make her feel comfortable, confident, and beautiful. Be sure to give her a follow for styling tips and inspiration.
What are some ideas for summer outfits?

Here are some outfit ideas based on our Summer 2023 Collection. The beauty of the Seychelle collection is that it can be paired with almost anything to make endless cute summer outfits.