Discover the 5 Effortless Ways to Stay Active While Traveling

Burning calories on vacation may seem like the last thing you want to do, but a good workout can boost confidence, energy, and maintain your fitness routine. We promise, if you have 10 minutes a day, you can get a full-body workout with these expert tips.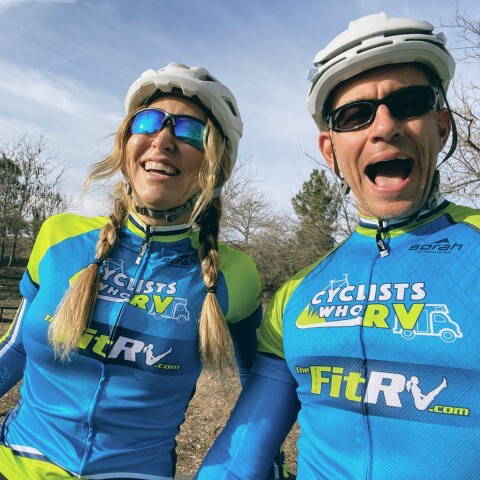 To give you the best advice on how to stay active while traveling, we had to reach out to our long-time ambassadors Stefany and James of The Fit RV who spend lots of time on the road and have backgrounds in personal training and coaching. Stefani has a degree and years of experience in this field and James is a USA Cycling Certified Coach.
Together, they have developed a workout routine they can manage from their life on the road. Their advice is great for those of us who may be taking extended vacations this year or who are frequently traveling for business trips. While the average weekend getaway might benefit our bodies (as a great time to give our muscles much-needed rest), a week vacation or longer will benefit from these easy tips.
The Fit couple's first piece of advice: "Don't make it complicated! Bring a couple of things to make your workouts fun and fresh, and you'll be all set to enjoy quite possibly your most enjoyable 'gym' workouts ever, in the sunshine, right outside your RV door."
Working out in a new place can be difficult to plan for. Almost anywhere you travel, you can find local gyms or even hotel gyms stacked with workout equipment, but let's be honest, that sounds like more of a job than any of us want when trying to relax.
Vacation is all about having freedom,
and your workouts should be no different.
James and Stef's first rule for staying active while traveling is to bring along gear that can work anywhere. They recommend resistance bands, yoga mat, jump rope, and TRX bands. These four tools work incredibly well for any sort of travel, even if your space is limited to a hotel room, and pack up easily into whatever bags or storage you have.
If you can choose only one to bring, bring a yoga mat. From yoga, isometric holds, or simple exercises like pushups, situps, and squats will have you feeling great without complicating things at all. Plus, you can find a plethora of workout videos that require no other equipment than a mat. We love this Yoga mat for its travel-friendly design (plus it is made from eco-friendly tree rubber).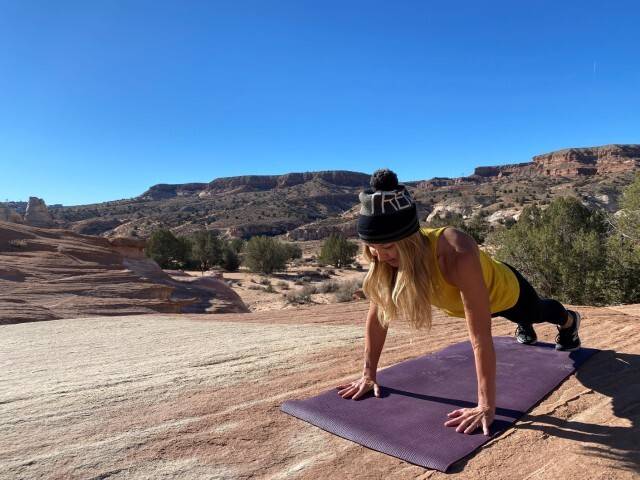 Sitting for long periods of time is a trade-off of travel in most cases. Whether you are arriving at your destination via car or plane, sitting is inevitable. However, it is also not so healthy.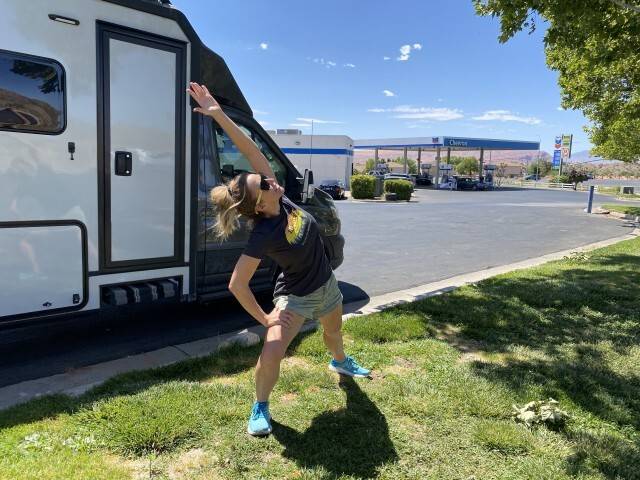 If traveling by vehicle, the Fit RVers suggest the best thing you can do is stop every two hours to move around for 10 minutes to stretch, jog in place, squat, or whatever else might feel good in the moment. Make it a game with your travel companions - whoever does the most jumping jacks or pushups gets to control the radio. In addition to burning calories, it also reduces the chances of blood clots and breaks up boredom. Plus, the fresh air will feel great!
When you do have long travel times that you cannot get out of, be sure to pack healthy snacks.
James and Stefany note how easy it is to fall into junk food instead of healthy food when the tedium of travel sets in. Some healthy options that are very portable include veggie sticks, fresh fruits, and trail mix. If you are on the road, or in a foreign city, dig into local food and see what healthy snacks you can find. And because water is such an important part of staying alert, healthy, and motivated, packing your reusable water bottle is a good idea too.
Incorporate Activity into Travel Plans

The best way to ensure that your health is a priority is to make it one. This is not to say that you can't enjoy a day of relaxing at the beach with a good book, but if you have a week in a beach destination, plan for a bike tour one day and maybe surfing lessons the next. This gives you a physical activity that is exciting and allows you to experience the new city you are visiting better.
Walking tours are great ways to hit fitness goals while traveling and an excellent way to get a flavor of a new city. Throw out the idea of rock climbing with your travel companions or hitting up the swimming pool (the trick here is to do your swimming before ordering the daiquiris!).
Don't Let Vacation Mode Intrude Self Care

We love this quote from our RV couple: "It's a mindset shift. Instead of viewing your RV trips as an excuse to skip exercising and eat anything — because, after all, you're 'on vacation!' — you view your trips as an extension of your healthy lifestyle, and you make sure staying fit is a non-negotiable part of every trip.
No one ever says 'hey I'm on vacation! So I can skip taking my blood pressure meds, YAY!" So the hall pass we give ourselves for skipping exercise and eating poorly doesn't make sense either. That's what fitRVing is all about. Keeping our healthy habits a priority and adapting them to life on the road."
They are right. If we are heading out for a quick weekend trip, it is okay to take a break from exercise, but if we are traveling for extended periods of time, we need to prioritize our health.
One very important thing to remember: don't beat yourself up if you miss a day in your road trip fitness routine. Many things can get in the way, like uncontrollable jet lag. After all, the point of being active on vacation is to be more relaxed, not more stressed.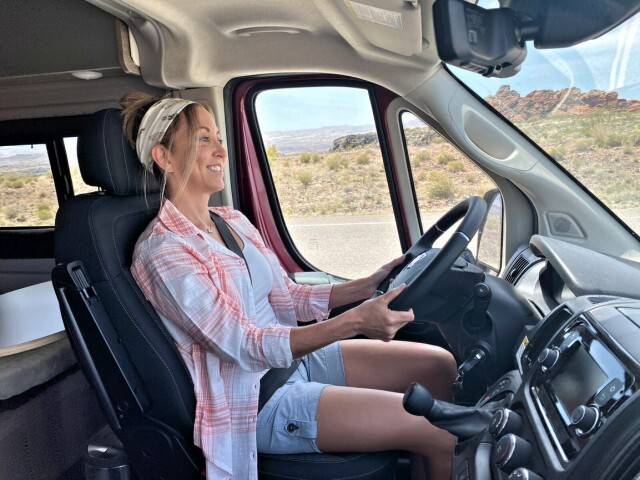 Pack Happy Active Clothing

Does clothing make a great exercise even better (or, at least, even easier to commit to)? Maybe! By packing athleisure pieces that you are excited to wear, we bet you will be more motivated to move.
We asked Stefany what her favorite Aventura pieces are for getting her heart rate up and looking cute on the road. Her favorite: the Samba Crop Pant because "they're so comfortable! I love their loose flowy style— it's so flattering and trendy. You can dress them up if you want, but they also make great lounge pants even when you're staying in. Everyone needs these pants!"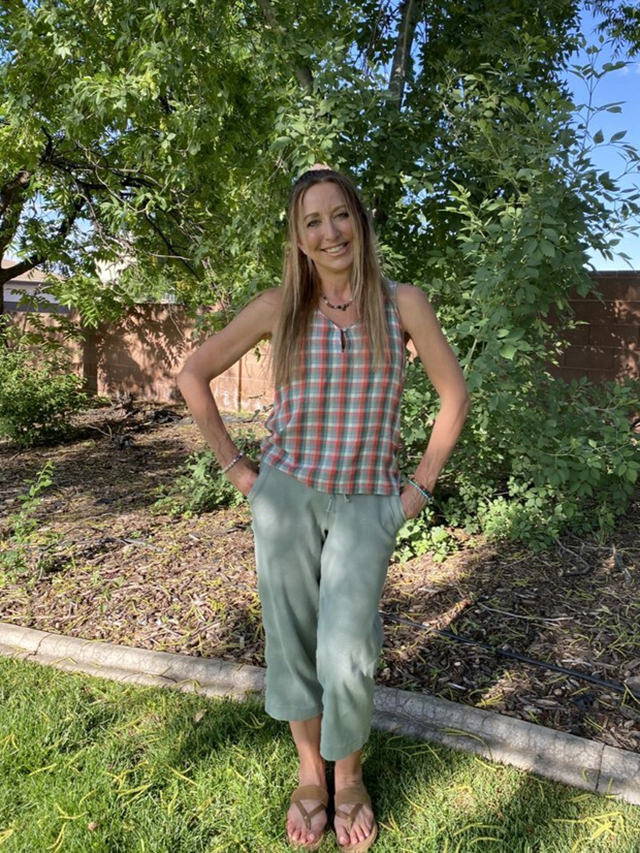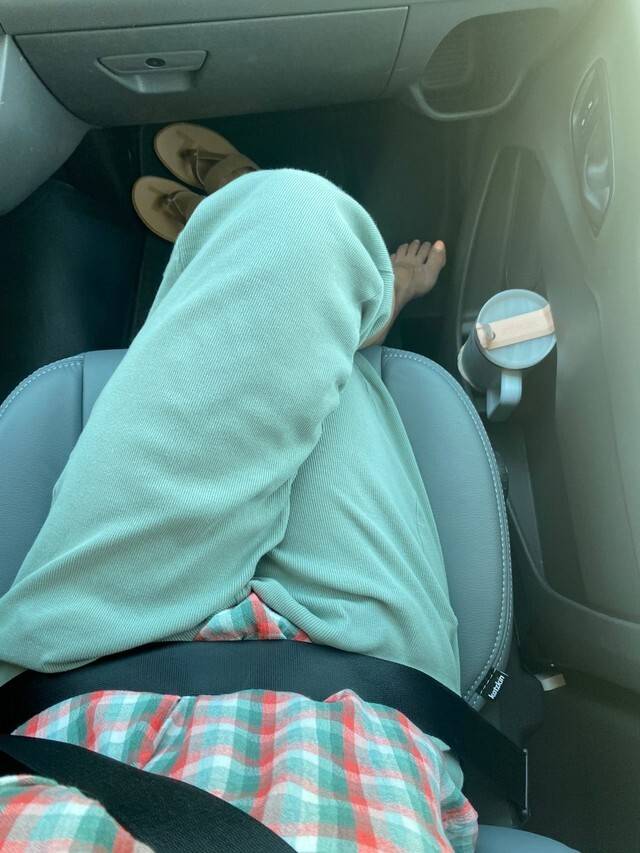 Stef and her husband James promote physical activity as they embark to new places on the road. Follow their journey on The Fit RV for a good time and great inspiration. They might just become your travel guide for RV life and life on the road.