Our Favorite Holiday Traditions

From across the country, our ambassadors tell us what traditions mean the most to their families during the holiday season.
During the holiday season, we love to reflect on what means the most to our families. Sometimes, it's gathering around food. Sometimes, it's playing games. No matter the celebration, holiday traditions remind us of how important spending time with our families is – and that's something we can all be grateful for.
Tell us your favorite holiday traditions by visiting us on Instagram or Facebook.
We all look forward to Christmas as a family. I think it's our favorite holiday! In the days and weeks leading up to Christmas, my two daughters (Claire and Aveline) and I spend each week making a batch or two of cookies at a time. We love to decorate the day after Thanksgiving and the entire house feels so cozy when it's done. One of our family traditions from my side of the family is to have a quiet Christmas Eve by attending a church service and a simple meal of soup.
For the past 10 years, we celebrate our oldest daughter's birthday and Christmas on the same day! She was truly the best gift ever when she arrived at 3:30 in the afternoon on Christmas. So we try to make a separate celebration for her as much as possible. In the morning we open gifts as a family then we have Claire's choice of dinner and dessert with birthday presents in the evening. We are looking forward to spending Christmas as a family and celebrating our almost 10-year-old. We wish you all a wonderful and joyous holiday season!
My favorite holiday tradition is our Christmas Eve jammy search. Every year, our elf hides a second time while we're at Christmas Eve service and brings a map with a riddle. The riddle sends the kid on a search around our house to find their Christmas pjs, which are actually just extra special jammies with their favorite characters on them (we usually get our Christmas jams earlier in the season so we can enjoy them all month long). The kids look forward to this with that special anticipation that only a child can have. And, whenever they wear them, I like to think they are reminded of that special moment we had together just before the hustle and bustle of Christmas Day begins.
Another tradition we love: whenever you take family photos, make sure to relieve some anxiety and giggles and tell everyone to make the silliest face they can think of! It might not be a picture-perfect photo but it sure is fun!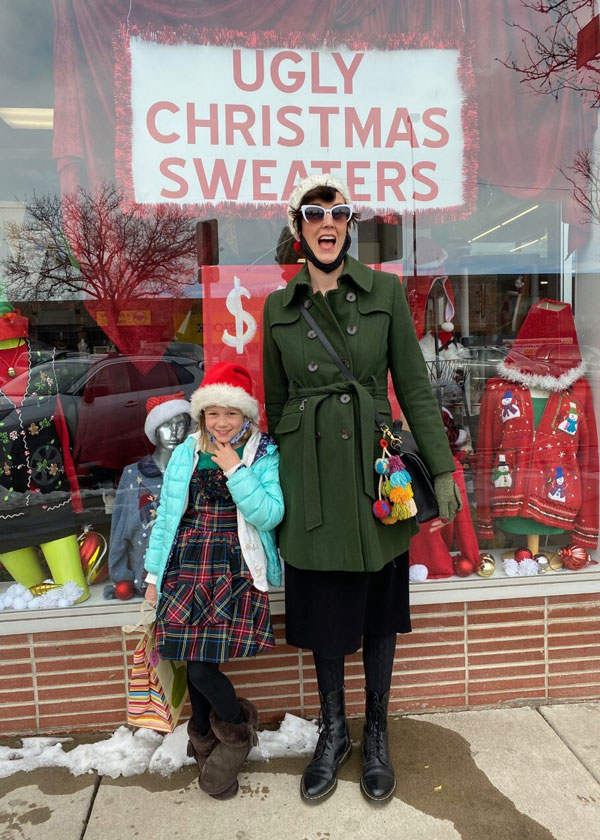 One thing we started doing as a family when the kids were about 3, 6, and 8 was picking a special day sometime before Christmas when just our nuclear family went out and played all day! We called it The Day of Jubilee! With Christmas Eve and Day being filled up with other extended family plans and so many school and various end-of-semester events, we tried to carve out a day where we could spend some actual quality time together. We'd go ice skating, eat out, have our own $5 gift exchange after drawing names at the local thrift store and watch a movie in the theater. Then we'd end the day with dinner together, hot chocolate and maybe a silly made-up game or fun activity. It's become one of the staples for our family during this busy season and we all look forward to the set aside quality time we get to spend with just our family!
In our family we celebrate Hanukkah. Each evening during the eight nights of Hanukkah, we actually get excited when the sun sets and it is time to light the Hanukkiah, which is the nine-branched menorah that we light during the holiday to remember the triumph of the Maccabees over their oppressors in the 2nd century B.C. and the miracle of the oil that lasted for eight nights. While this is actually a fairly minor Jewish holiday, because it falls during the holiday season, it tends to get a little extra attention and we do our best to make it special. The glow of the Hanukkiah brings warmth and joy and after the lighting we have our daughter open one of her eight gifts. The fun of deciding which gift to open on each night really draws out the excitement of gift giving.
On one weekend during the holiday, I will spend an entire day peeling, grating, and frying potatoes to make latkes, or potato pancakes. I've won a couple of latke contests so my latkes are pretty popular and I always figure if I'm going to get my kitchen all greasy, I might as well make quite a few to give away as well. Our friends and neighbors also look forward to their holiday deliveries of fresh latkes paired with homemade applesauce.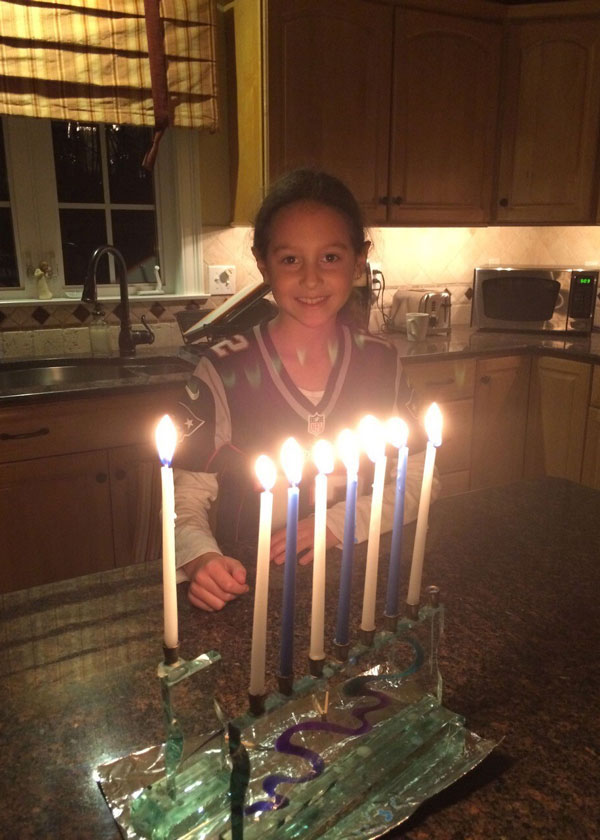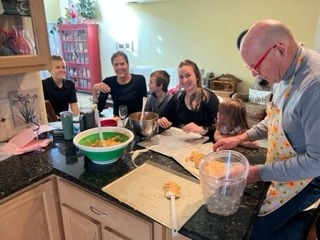 Our family Christmas tradition is making homemade tamales to enjoy for our Christmas Eve dinner! We call it Tamale Day and we get together with my son and his six kids before Christmas and make dozens of delicious tamales for our freezer so that we can enjoy them on Christmas Eve and all year long. Everyone has a job and we have great fun doing it! And of course, mimosas are involved.
Growing up, it was an event to visit our local tree farm for apple cider, to bring home a big, symmetrical pine for the front corner of our living room, adjacent stained glass and a decorated hearth. The cats would play with the ornaments as soon as my family members would put them on. A velvet tree skirt around the base quickly accumulated gifts. Advent calendars didn't last long, because I've never had any self-restraint. Christmas Eve began a multi-day feast. We'd open one gift, read stories like The Night Before Christmas, and we'd leave out cookies and milk for Santa. My parents are also big fans of caroling, driving around looking at holiday lights, and good food! Finally, we like to visit the river where my grandma's ashes are scattered.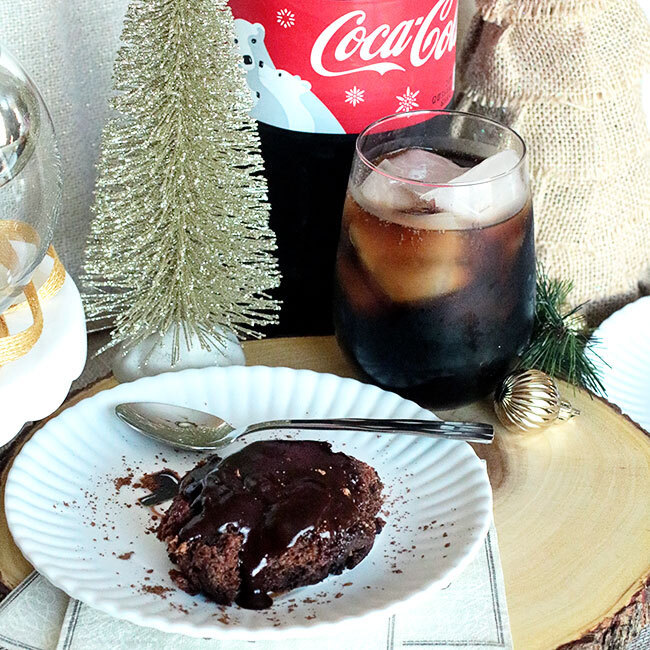 One tradition that we have at my house is that I always, ALWAYS make this Holiday Slow Cooker Hot Fudge Sundae Cake on Christmas Day. It is so easy because it bakes in the crock pot and is ready by lunch (or dinner, if you start it later). It makes the house smell so good! It is fun to scoop the cake out of the slow cooker because the icing cooks on the bottom and you flip it over onto your plate so that the icing is on top! This warm cake is SO delicious and my favorite chocolate cake to devour with a scoop of ice cream or a glass of Coca-Cola!