Staff Favorites for Summer

We not only talk the talk, we walk the walk (dressed in Aventura, of course!)
Aventura Clothing's design team is led by women, which means we create the clothing that we want to wear!
Our Spring / Summer 2022 collection is no different, so we've asked the lovely ladies of Aventura which styles are at the top of their lists and the results are in…

I even have a picture from the Sedona shoot in them! I love the high waistband on the Starla, and the pockets on the legs are perfect for keeping my phone handy to snap pictures when we are out hiking. I tend to burn easily in the sun so the fact that they offer UPF protection is huge!

This universal short sleeve top is my go-to in the spring and summer! The best part is you can dress it up with jeans and cute shoes, or you can throw it on with leggings for a workout. You can't go wrong with a shirt that is both comfortable and stylish.

I'll admit I'm a bit of a dress girl and this one ticks all the boxes for me. A super lightweight recycled polyester fabric with a subtle print that offers UPF protection is just the beginning. I love the tulip shape on the front because it is feminine and flattering for all body types, and there is just enough ruching at the waist to flatter your figure and still be super comfortable.
I will definitely be taking this one on my travels this summer since the fabric is pretty much wrinkle-free and quick drying.

Helena - Florine Tank Top
The Tencel™ fabric is silky soft and perfect for summer. It's also super sustainable, which makes me feel good! The best part about this tank is the high neckline, back cut-out, and print – gorgeous!

I love this easy-to-wear everyday top. I have the iceberg green color and it is the perfect soft green. The cotton-rich fabric has a great soft lightweight feel. With the tie front, it doesn't get too short and still offers full coverage.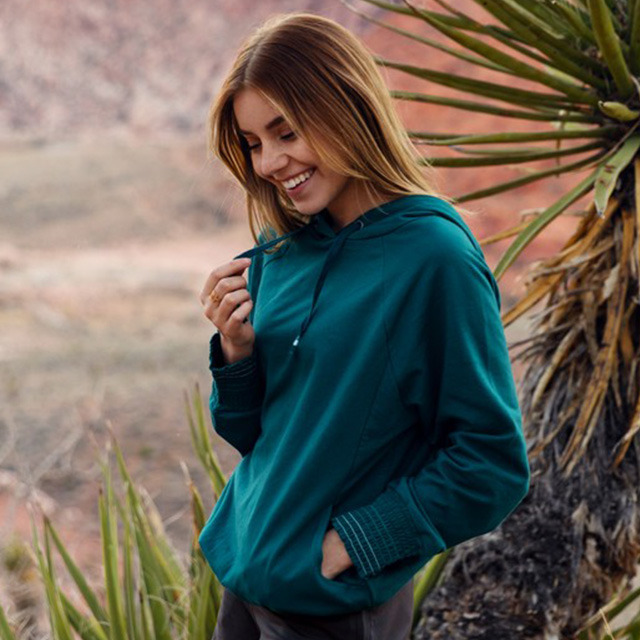 UPF protection, lightweight, and styled with cute color details at the wrist, waist, and drawstrings.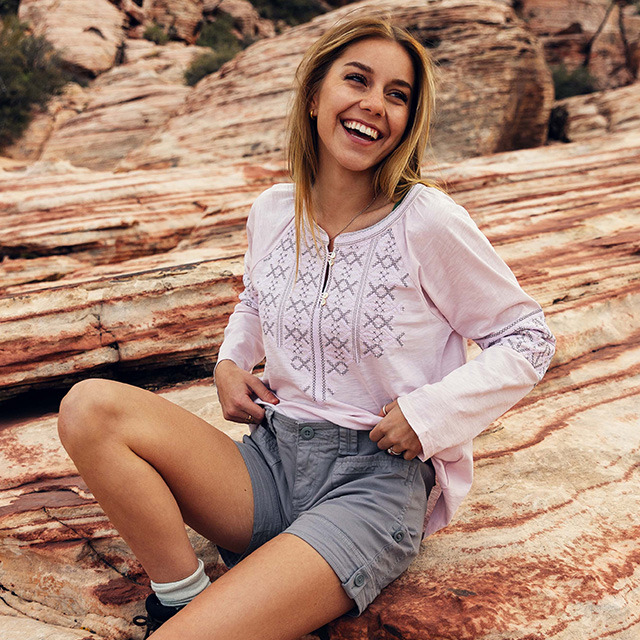 A redesign of a classic style, this sweet, boho-inspired top is easy to pair and 100% sustainable.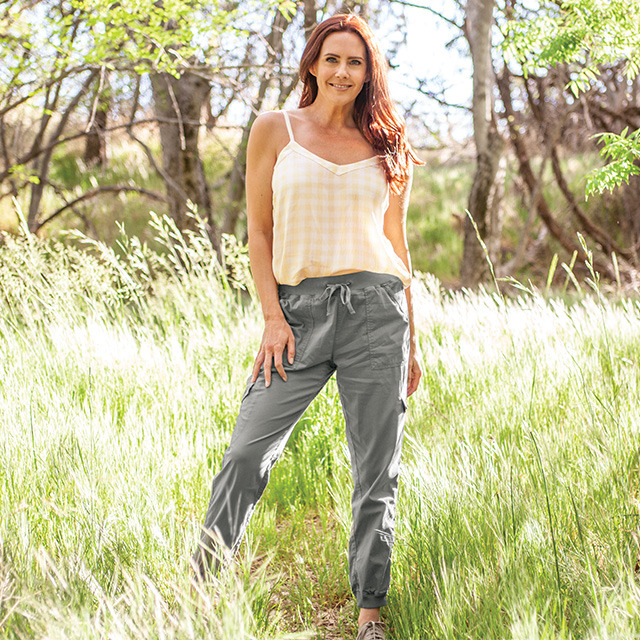 This casual pant offers a shape that is flattering for every body – it's also perfect to show off your summer sandals!