Three Joshua Tree National Park Hikes

Local art, eclectic stays, rock climbing, brilliant views of the milky way: Joshua Tree is a loved destination. We've gathered three of our favorite hikes within the park that show off how cool this place really is. Come adventure with us!
Joshua Tree is made up of three ecosystems: the Colorado Desert filled with cholla cacti, the Mojave Desert filled with Joshua Trees, and the San Bernardino Mountains filled with pinyon juniper. Many animals call this space home, from bighorn sheep to migratory birds to reptiles. Along these three hikes, you will get a little taste of all of this.
Keep in mind, however, that it is hot here during the day with little shade and water. The park service also advises that there is little to no cell service within the park, either. Please come prepared! Always keep extra water in the car and make sure to bring enough with you as you hike. We also recommend visiting during the spring or the fall when the temperatures are more palatable.
Kid-Friendly Hike: Oasis of Mara Nature Trail

This trail is more of a stroll than a hike, but very doable for families traveling with young children and an important part of the park! It's also the only trail within the park that is dog-friendly (all dogs must be on leash, however). This trail is 0.5 miles and starts from the Joshua Tree National Park Headquarters.
We love this trail for families because it is not only beautiful but also has historical and cultural significance that is fun to talk about with kids. The Serrano people first established this area as an oasis. They called it Mara, or "the place of little springs and much grass." In the first year they settled here, they planted 29 palm trees which gave them food, clothing, cooking implements, and shelter. Over the years, many people passed through this area including survey parties, prospectors, and cattlemen. In 1950, the National Park Service took over the area to use as park headquarters.
Before you hit the pavement, take a peek through the Visitor Center and the Joshua Tree National Park Association bookstore to learn more about the area.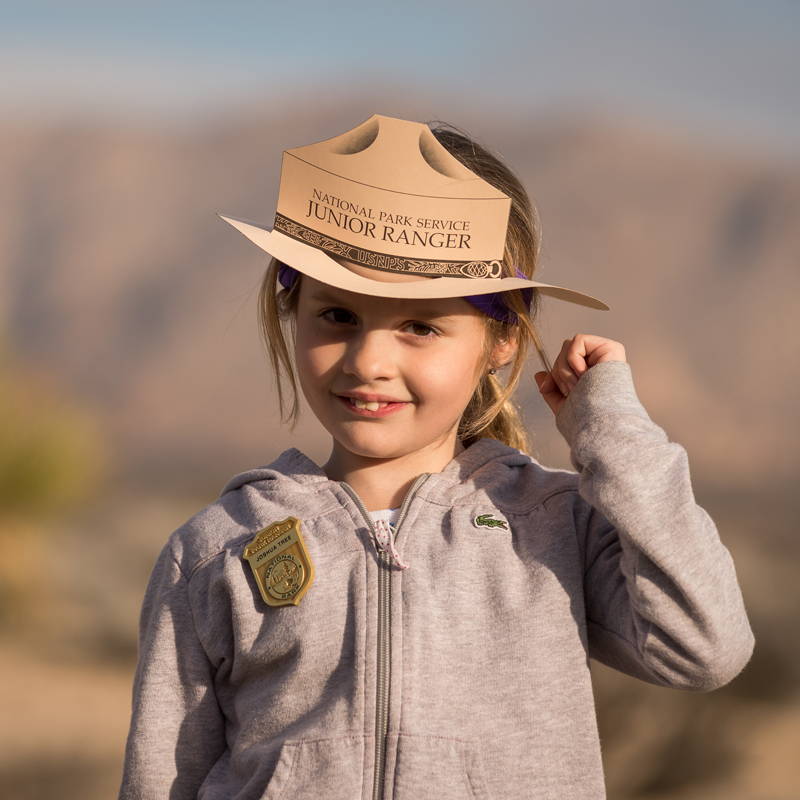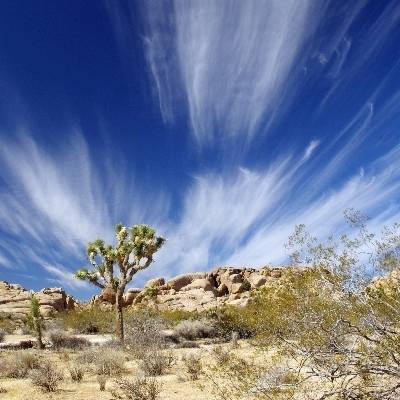 Wildflowers Hike: Skull Rock Nature Trail

Starting at one of the park's most notable rock formations (Skull Rock) and trailing through bright pink, purple, yellow, and red flowers during spring, this trail is not to miss!
This is considered an easy trail that is a 1.8-mile loop with only 120 feet of elevation gain. It goes right through the Jumbo Rocks Campground, so it's an easy tour if you're already planning on camping there.
Some flowers can be found all year but most are blooming from April to June, which is also the perfect time of year to catch a great temperature in the park! Keep an eye out for the pink flowers of the Beavertail Cactus, the star-like flower of the Cushion Foxtail Cactus, and the bright red flowers of the Mojave Mound Cactus. Yellow Bush Penstemons have a unique and beautiful shape alongside their sunny disposition. Visitor centers throughout the park, as well as the National Park Service website, have more information about the flora you will see along this trail. Be sure to read up before you go so you can properly identify what you see!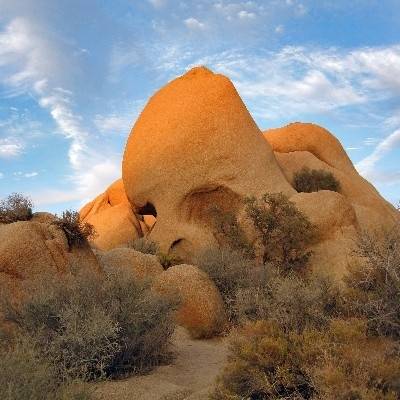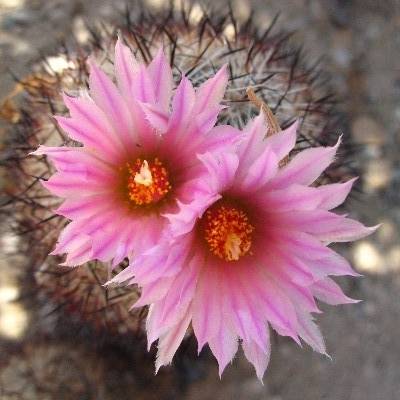 Views, Views, Views: Black Rock Canyon Panorama Loop

This trail is more difficult than the others (6.6 miles with 1,100 feet of elevation gain) but rewards with gorgeous views of the Coachella Valley and the surrounding area (especially at sunrise!).
This trail follows the ridgeline of the Little San Bernardino Mountains and takes hikers through one of the densest Joshua tree forests in the park as well as pinyon-juniper woodland. This trail starts at the Blackrock Backcountry Board, close to the Black Rock Campground. From the trail, you'll see Mount San Jacinto and San Gorgonio.
You'll likely encounter some wildflowers, bugs, and quails running across the trail during the spring. Though there are plenty of Joshua trees, shade is hard to come by. Prepare with sunscreen and plenty of water! Hikers who frequent the trail recommend approaching the loop counterclockwise to reduce the climb. However you hike, this trail is one that is best started (think 7 am) to beat crowds and heat.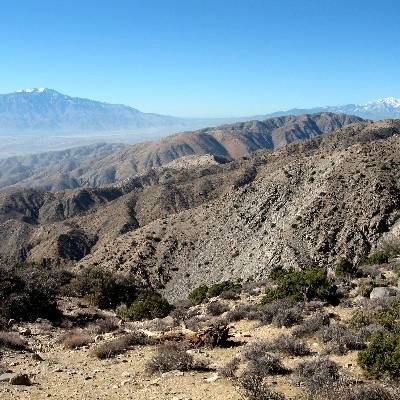 Recommended Outfits for Joshua Tree Exploration: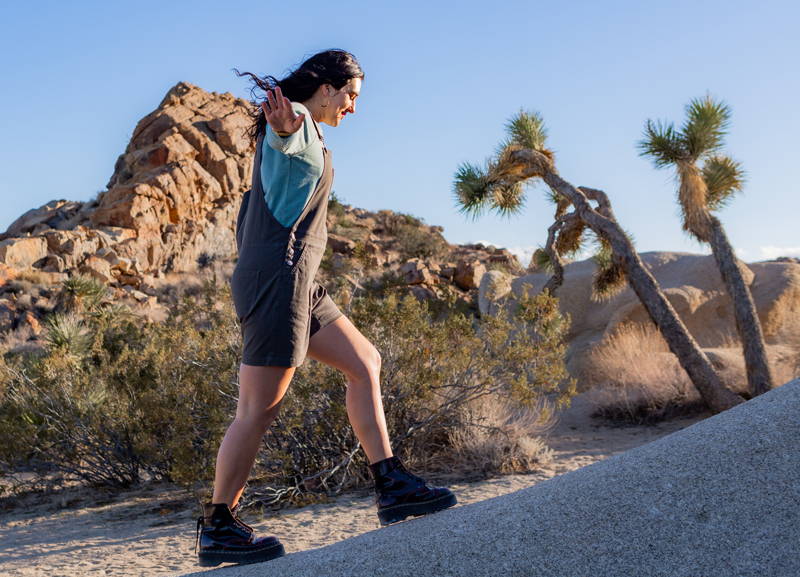 Arne Overall from Old Ranch Brands

Pockets, utility, and style! Layer over sweaters or t-shirts to adjust for the weather.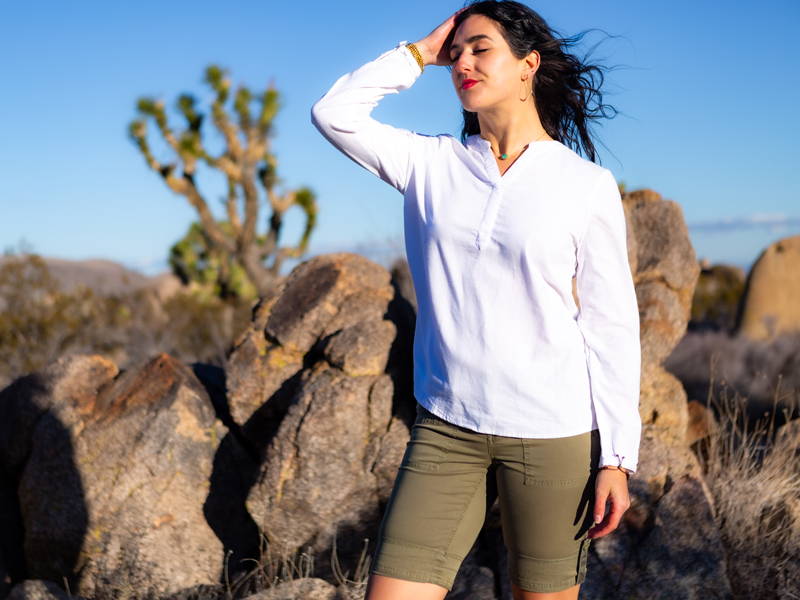 One of our best-selling styles made for adventure.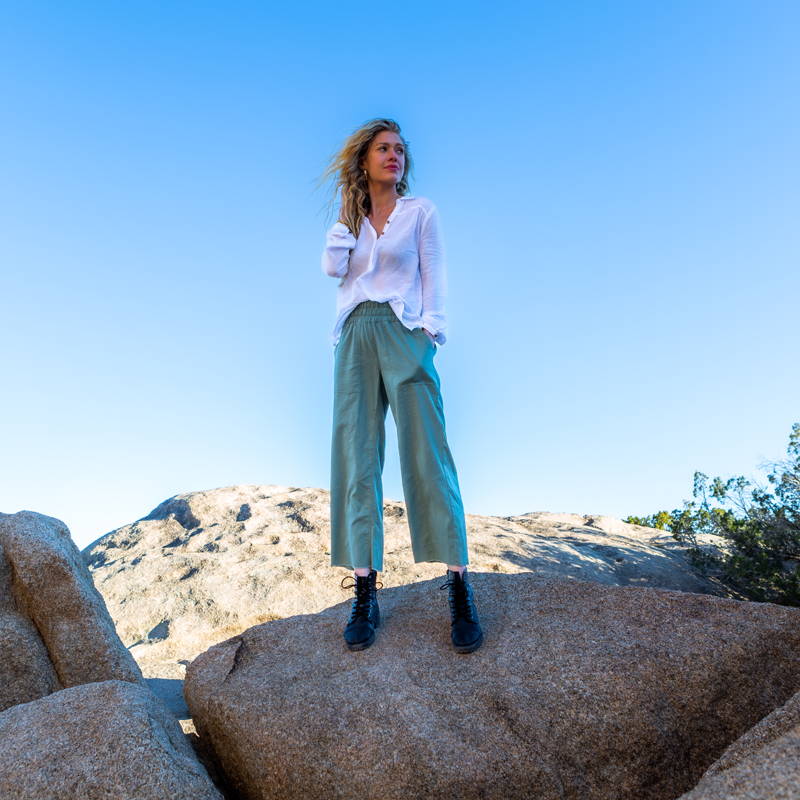 Breezy, airy, and perfect to dress up for town or down for park strolls.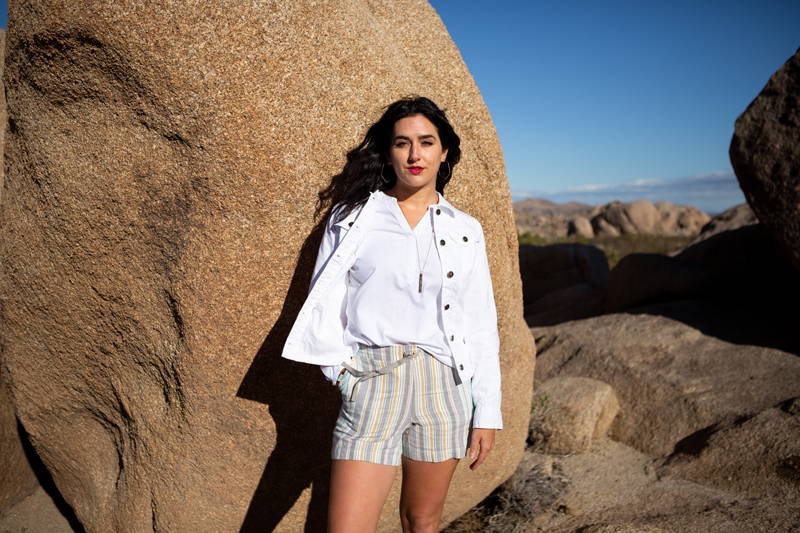 A light layer for mornings or evenings in the desert that are chilly.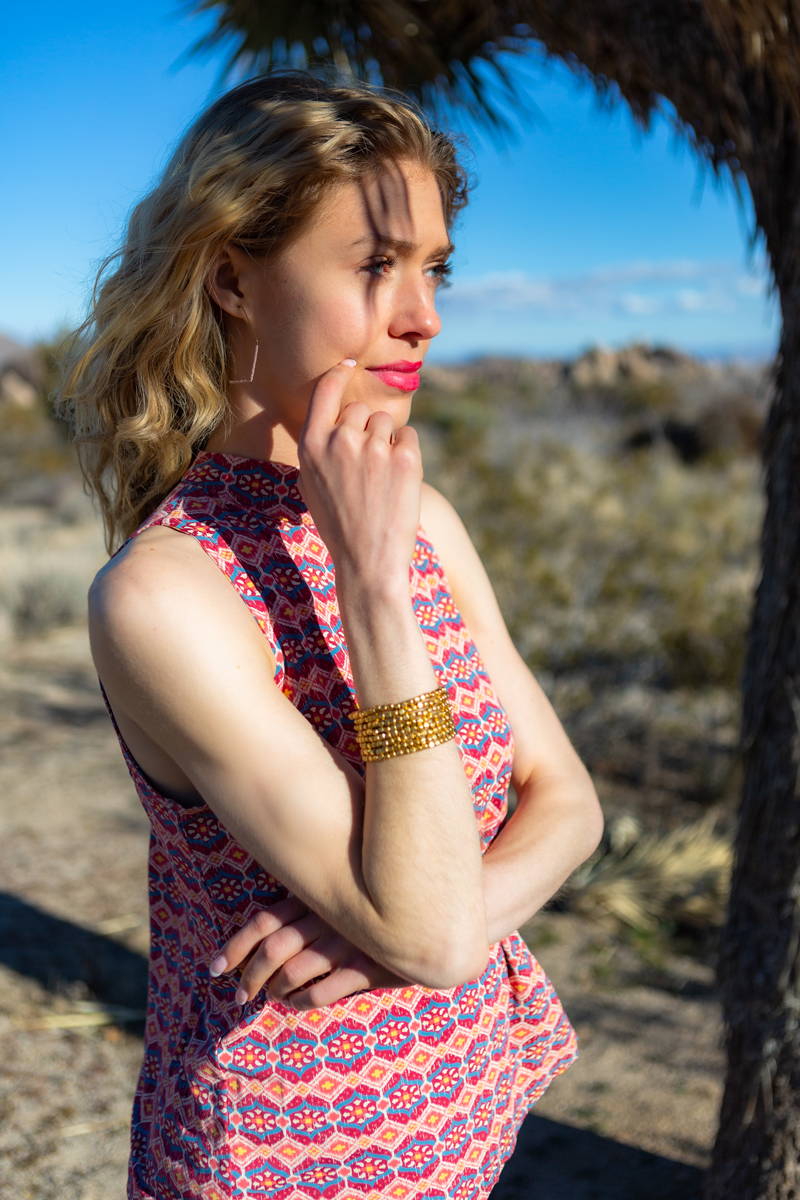 A vintage-inspired print that screams desert getaway!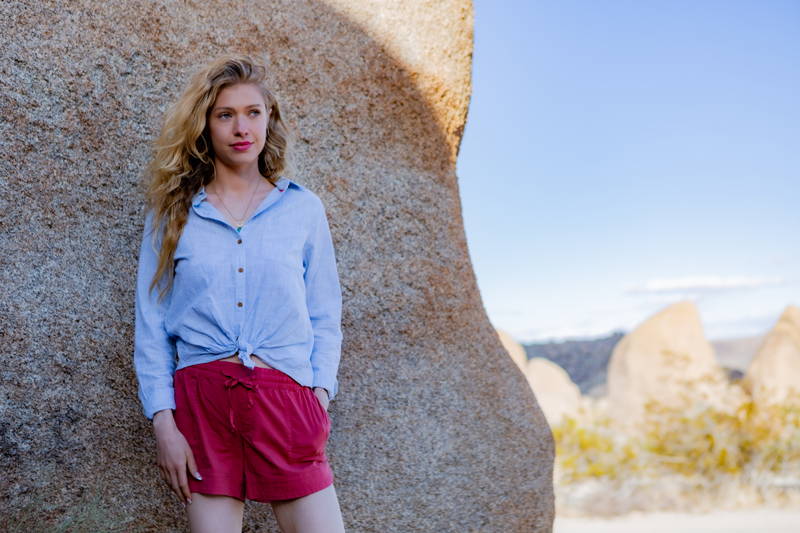 An easy-going short with 8 colors to choose from.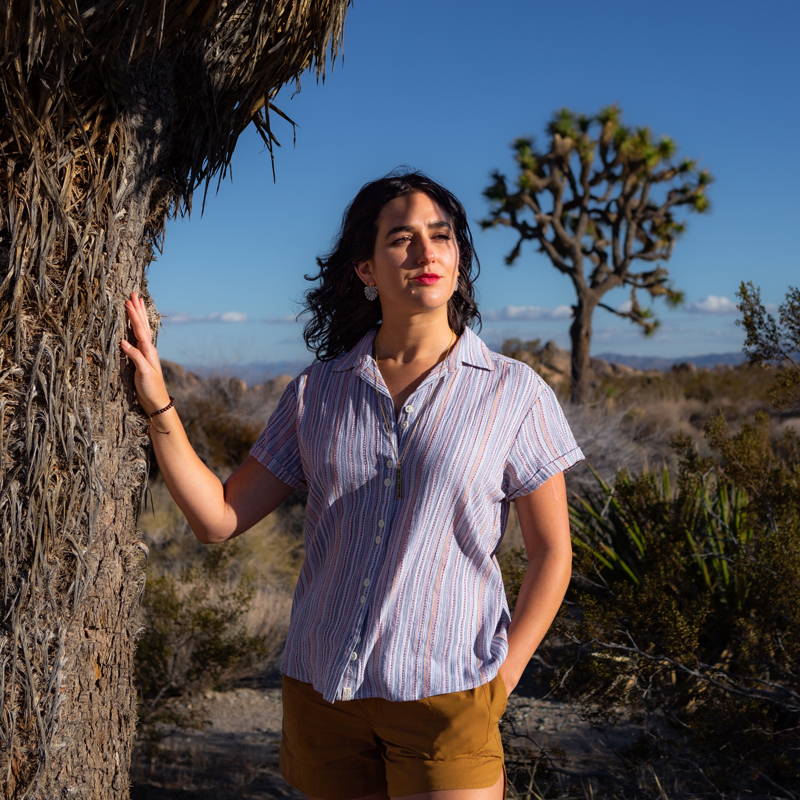 Breathable and comfortable, yet polished. This top will help you keep your cool.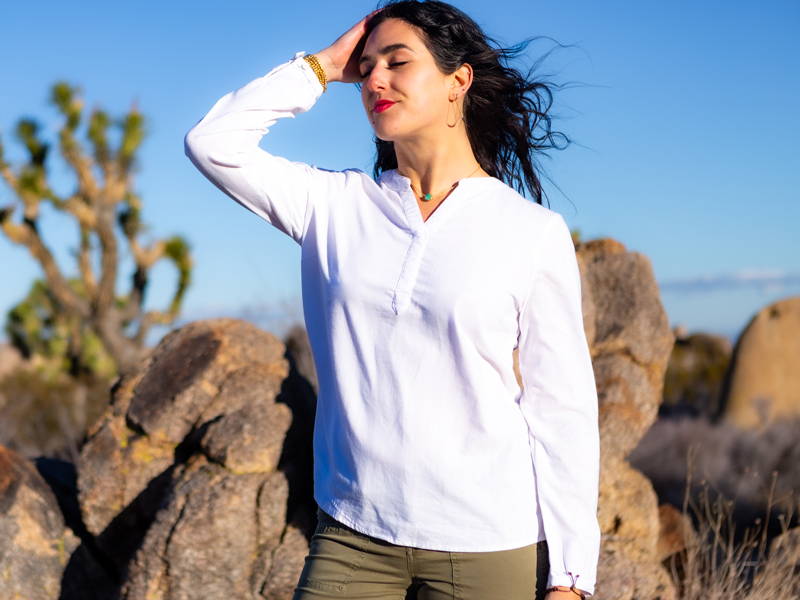 A lightweight, breezy long sleeve is perfect for sun protection on warm days.
All photos in Recommended Outfit section courtesy of Jack Brennan, Crucible Pictures.