"This is an amazing opportunity for anybody to help women, to help each other, to feel loved, and to know that you are not alone no matter what situation you are in."
- Carolina, Uncommon Threads client
All women deserve to feel worthy, strong, and beautiful.⁠⁠
That is the mission behind Uncommon Threads, an out-of-the-box nonprofit which provides clothing, style advice, and resources to underserved women in the Lawrence, MA community to give them the chance to find jobs, confidence, community, and inner strength.
Uncommon Threads has served over 4,000 low-income women since opening its doors in October 2016 including domestic violence survivors, cancer patients, LGBTQ, unemployed and underemployed, homeless, disabled, veterans, and women in recovery.
"Just the experience of being pampered and styled, is empowering," founder Susan Kanoff explains, citing a Northwestern University study called Enclothes Cognition. "This research relates to the effect to which clothing has upon a person's mental process and the way they think, feel and function in areas like attention, confidence, or abstract thinking."
Though supplying clothing is at the forefront of this organization, Uncommon Threads digs deeper to help empower women by providing support, advice, community, and encouragement. To compliment the clothing service, the nonprofit runs a Women's Empowerment Center which offers monthly workshops and events facilitated by professionals such as life coaches and therapists. These events are "focused on educating, skill-building, self-exploration programming, and supportive community where women can learn from each other and combat the feeling of isolation," Susan explains.
Before founding the nonprofit, Susan was both a decorated social worker – awarded with The National Association of Housing and Redevelopment Officials (NAHRO) awards for program innovation, The YWCA's Tribute to Women Award, and a Massachusetts citation for excellence – and a wardrobe stylist/blogger. Her unique background allowed her to see the need underserved women in her community had for clothes and the opportunity to connect these women to donated clothes from her stylist clients. The women in her social work program had improved self-worth after being connected to clothing. Feeling like she could extend that empowerment to more women, Susan made the leap and founded Uncommon Threads. ⁠⁠
To seek help from Uncommon Threads, women must be referred by social workers, doctors, churches, social service organizations or therapists. Clients are offered a personalized style session and clothing to take home for a $10 donation (which is waived if she cannot afford it). These sessions are tailored to whatever need the client may have, whether that be a job interview, court case, or rebuilding a wardrobe after a disaster or domestic violence.
Ellen Weinhold, a social worker at the Methuen Housing Authority,⁠⁠ provides a beautiful picture of success: "Crystal L. lost everything in a hurricane. She came to Massachusetts with very little, I referred her to Uncommon Threads for interview outfits and she was so grateful that she cried. Crystal got a job two weeks later working as a receptionist for American Airlines and is starting to build her life back."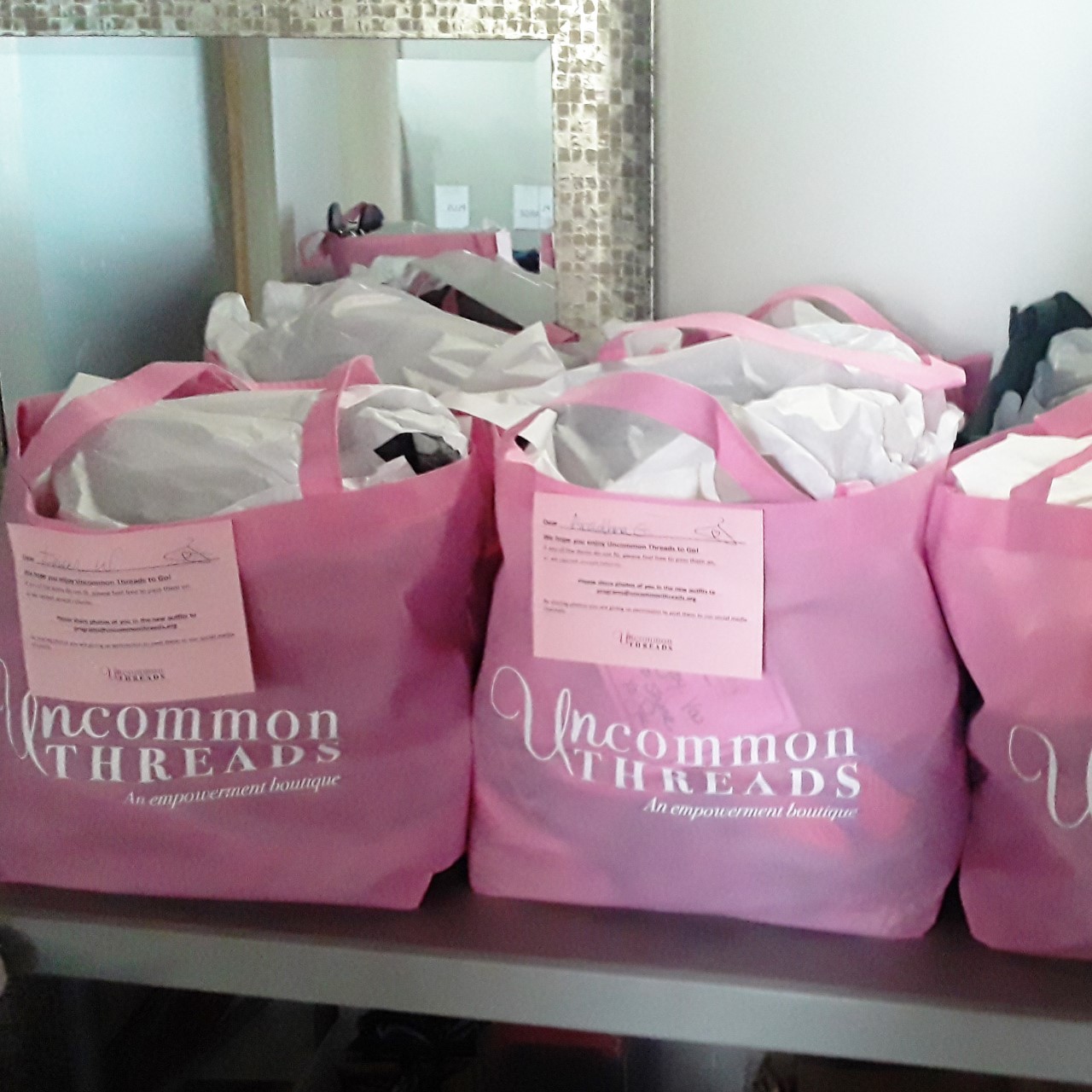 The nonprofit represents more than a new set of clothes for women. It is solace to those who have left abusive relationships, who are battling cancer, who have lost everything in natural disasters, and who feel that their voice is not worthy of being heard.
When women leave Uncommon Threads, they land jobs, build businesses, advocate for themselves, and feel that they have found a community in a world that has left them feeling so alone.

Since 2017, Aventura Clothing has proudly made bi-annual clothing donations to Uncommon Threads. You can help empower women through the organization, too, by:
Donating clothing that is in new or like new condition (all sizes) and in style. The organization does not take many suits (they don't have the storage space and there isn't a big need), but they do accept handbags, jewelry, shoes, and accessories in new or like new condition.

Make a monetary donation. All donations can be sent to Uncommon Threads 60 Island St. Suite 150 Lawrence, MA 01840 and are tax-deductible. Monetary donations can be made by check or online at

www.uncommonthreads.org

Shop for yourself online in the Uncommon Closet, a social enterprise that acts as an important piece of the nonprofit's fundraising strategy and sells donated designer items to the public.

Donating designer clothing, bags, shoes, and accessories to Uncommon Closet to help generate funding for Uncommon Threads.