Organic Cotton vs. Regular Cotton: What's the Difference?

Organic is a buzzword within the world of sustainable alternatives. But we get asked the question all the time: Does organic cotton make that big of a difference in the clothing we wear?
Organic cotton is actually the first fiber we used as we launched Aventura Clothing back in the spring of 2006. The inspiration to switch to the material came from an experience John Kirsch, our CEO, had at a dry land organic cotton farm in Lubbock, Texas. Here, at the inaugural meeting of the Organic Exchange (later changed to Textile Exchange), he learned how impactful sustainable fibers could be alongside expertise in utilizing lower-impact textiles from companies like Patagonia, Timberland, and Mountain Equipment Co-op.
Even with this revolutionary experience, the prospect of our family business starting Aventura with eco and sustainable alternatives was a huge risk with unknown consumer demand. We are happy that we made the jump into fashion's sustainable environment, though challenges still present themselves. For example, greenwashing has corrupted the industry, shaking consumer trust (find a list of sustainable buzz-words to watch for here).
That's why we wanted to create this guide to organic cotton - to arm you with knowledge so that you can feel comfortable that your purchases are making a difference. We hear all the time about the benefits of organic produce, but that often is disseminated to health benefits for the consumer. In this guide, you will learn that organic cotton makes a huge difference in the environment that ultimately benefits us all.
Organic cotton is more sustainable than normal cotton
The short answer is: YES! Organic cotton vs. conventional cotton makes a huge difference in the world of fashion and the effects it has on the environment compared to conventional cotton. It all starts with sustainability. Simply put, the organic cotton crop is produced without any chemical inputs (pesticides, fertilizers) and uses less water to grow. This helps communities and local environments plus it reduces emissions. Let's break that down more:
No Chemicals = Healthier Soil Quality & More Water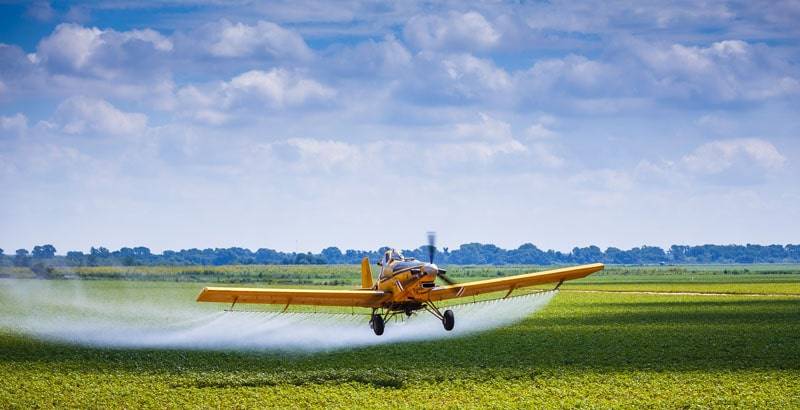 Did you know that across the globe non-organic cotton covers just 2.4% of the world's cultivated land but uses 6% of the world's pesticides (and 16% of insecticides), more than any other single major crop? [source]
Did you know that pesticides are produced from petroleum and petroleum by-products as well as a number of obscure additives? [source] This makes cotton the world's dirtiest crop. These harmful substances contribute to greenhouse gas emissions and place dangerous chemicals into the air, soil, and waterways of local communities.
In fact, pesticides can negatively impact soil quality to the point that plant growth is stunted. This happens because of a chain of events starting with the overuse of chemicals. First, soil acidification happens, which damages the soil crust. This reduces organic matter, which plants thrive on. When that happens, the growth of the plants is stunted. [source]
A report from the European Environment Agency (EEA) states: "If pesticide levels exceed critical thresholds, individually or as mixtures, they affect ecological processes and make ecosystems less diverse and resistant to disturbances."
More staggering than the stunted growth of the plant, is the amount of water the harsh chemicals of regular cotton necessitate. According to The World Counts, nonorganic cotton farming requires 10,000 liters of water to produce around 2.2 pounds of cotton. However, organic cotton farms save 91% of regular cotton water consumption.
One fact we love about organic cotton is that it is estimated to save 2,180 liters of water for just one pair of jeans produced compared to conventional cotton. Think about how much water you could save if you buy organic cotton instead!
Organic Cotton Helps Communities
The cotton farmers and local communities around cotton farms are gravely affected by the production of conventionally grown cotton. The EEA says that "human exposure to chemical pesticides is linked to chronic illnesses [source]" and exposure to chemical-based farming has been proven by the Agricultural Health Study to lead to a higher incidence of cancer, Parkinson's disease, diabetes, thyroid disease, and asthma.
The same report from the EEA states that "In 2020, one or more pesticides were detected above thresholds of concern at 22% of all monitoring sites in rivers and lakes across Europe." In India, the largest cotton-producing country in the world, a 1995 survey by RK Kole and MM Bagchi found that 58% of drinking water was contaminated with pesticides above the EPA standards.
It's not just the human communities we need to caution; animals face detrimental results of pesticide use, including death.
"Recent assessments show that pesticide exposure is linked to a wide range of direct (both lethal and non-lethal) and indirect effects on biodiversity, contributing to declines in populations of insects, birds, bats, earthworms, aquatic plants, fish and amphibians, among others." - EEA
Organic cotton plays an important role in protecting workers, our families, and animal communities from the harmful effects of chemical-based pesticides.
Cotton's Chemical Romance
Why do pesticides have such adverse effects when growing conventional cotton? Because they are made from harmful chemicals like petroleum. These harsh chemicals penetrate our environments and negatively affect the health of soils, waterways, animals, farmers, and communities.
Switching to organic cotton does make a world of difference for our health today and in the future.
How is Organic Cotton Produced?
Organic cotton farming is characterized by growing cotton without synthetic pesticides or GMOs including genetically modified seeds. The crop can be grown, instead, by using natural fertilizers and bio-pesticides. Without the presence of chemicals, the soil can retain its health and produce higher-quality crops. Healthy soil can also absorb more water, creating less reliance on traditional irrigation.
"Organic farming systems have the potential to sustain and promote the health of soils, ecosystems, and people by relying on ecological processes, biodiversity, and cycles that are adapted to local conditions, rather than using external inputs that could have adverse effects." - Textile Exchange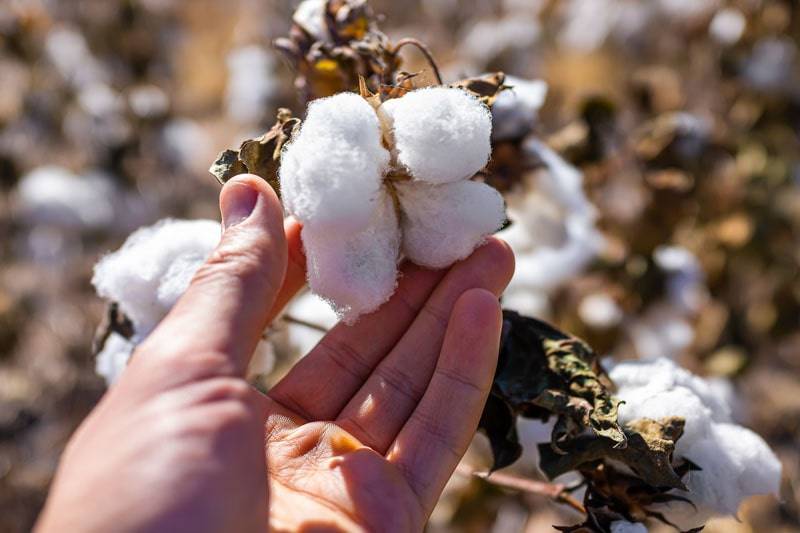 Organic cotton farmers use techniques like these instead of toxic chemicals:
crop rotation techniques to improve soil quality

planting beneficial cover plants, such as grasses, to prevent pests and soil erosion

rainwater and other sustainable water management tools

utilizing natural fertilizers such as manure or compost
Organic Certifications for Cotton
GOTS is a worldwide industry standard in the textile industry, particularly organic cotton, that provides clear criteria for the organic fiber production process. It examines the entire supply chain (from organic farming to finished fabrics) to ensure that the products considered organic are certified.
Though not GOTS certified, cotton grown under the Better Cotton Initiative™ (BCI) is considered a preferred fiber by Textile Exchange. The organization's mission is: "to help cotton communities survive and thrive while protecting and restoring the environment." Cotton farmers certified with BCI have been trained in sustainable farming practices such as ways to promote soil health, water stewardship, carbon capturing, and biodiversity. The initiative also promotes ethical labor practices, such as fair wages, and gender equality as a part of its mission.
You will find a mix of organic cotton and BCI cotton in the styles we offer, both paving a path for a better tomorrow.

Does organic cotton feel different?

Compared to regular cotton fabric, organic cotton does not feel of less quality. In fact, organic cotton vs conventional cotton clothing can be less irritating for those with sensitive skin or those with various skin allergies. However, it should still be noted that chemical dyes do not negate an organic label, and those with skin sensitivities should still be mindful of this process when purchasing clothing.
Benefits of Wearing Organic Cotton







What is the best time of year to wear organic cotton

Any, but we especially love cotton during the warmer months. You'll see organic and BCI cotton featured heavily throughout our spring/summer collections. It's the breathability and easy care that makes it so special for us. This makes it also great for fall, as it works well to balance those tricky transition temperatures of September and October.
Seven Organic Cotton Looks To Shop Now:

Another Aventura Arden staple! The Arden Crop Pant has 32 five-star reviews with customers saying things like: "Lightweight, comfortable, great fit! I've been buying these pants for years. Love the lightweight fabric, the range of colors, and the way they fit my body. A must-have...thank you so much!!"
Another Aventura Arden staple! The Arden Crop Pant has 32 five-star reviews with customers saying things like: "Lightweight, comfortable, great fit! I've been buying these pants for years. Love the lightweight fabric, the range of colors, and the way they fit my body. A must-have...thank you so much!!"